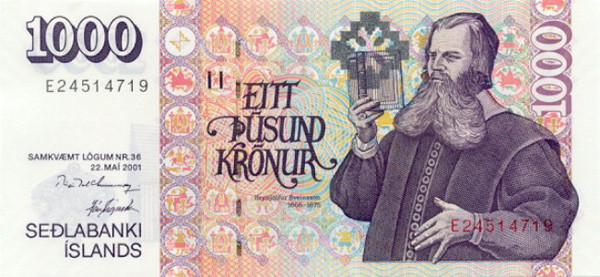 Iceland is considering a new report which would rather radically change the banking system of that country:
Iceland's government is considering a revolutionary monetary proposal - removing the power of commercial banks to create money and handing it to the central bank.

The proposal, which would be a turnaround in the history of modern finance, was part of a report written by a lawmaker from the ruling centrist Progress Party, Frosti Sigurjonsson, entitled "A better monetary system for Iceland".

"The findings will be an important contribution to the upcoming discussion, here and elsewhere, on money creation and monetary policy," Prime Minister Sigmundur David Gunnlaugsson said.

The report, commissioned by the premier, is aimed at putting an end to a monetary system in place through a slew of financial crises, including the latest one in 2008.
To be honest, the report (which can be read at that link) is little more than a rehash of the proposals of Positive Money. And worth about as much as such a rehash is going to be. It's worth pointing out that Julian Simon was actually correct, human ingenuity, and the knowledge it produces, is the ultimate resource. And given that Iceland's population is some 300,000 people there's not a great deal of it natively. We have noted around here more than once the problems that stem from trying to extract decent economic ideas from the rather larger population of Norfolk as an example.
The basic idea is that as banks create credit, credit creation is behind boom and bust, put credit creation into the hands of the government and abolish boom and bust. We don't think that that's how it will work out. Rather more likely is that politicians will follow the incentives of being able to spend this newly created money without having to tax to gain it and the result will be high and persistent inflation.
However, we're absolutely delighted that someone undertakes the experiment. Actually, we're delighted that someone else undertakes this experiment. Good luck to them say we. And we'll come back in 20 years, see whether there's been that abolition of boom and bust, been that persistent inflation or not, and then we can make a decision about whether to follow or not.